New Activity Centre
We are very proud to have opened our new Activity Centre in June 2022.
It's a fantastic space – purposely built to be flexible for use for both formal and informal meetings, clubs and group activities. The space includes a large interactive screen with internet connection, large kitchen and accessible toilet with baby changing facilities.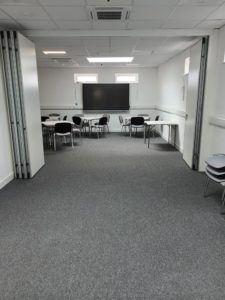 The new extension and Activity Centre was only possible due to generous grant funding we've received from:
Section 106 – Developer Contributions via Vale of Glamorgan Council,
Strong Communities Grant Fund,
and significant donations from the local community.
This space is available to hire for events by the general public.
Our, introductory, 2022 rates are as follows:
1 hour rental – £8
3 hr rental – £20
Please contact us to discuss your event and requirements.