Opening hours
Rhoose Community Library is open 6-days each week, Monday to Saturday.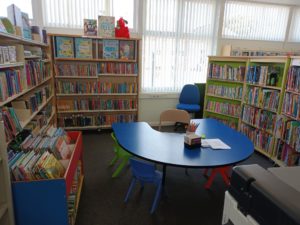 Our opening hours are as follows:
Monday 10am to noon;
Tuesday 10am to noon;
Wednesday 10am to noon, and 2 to 4pm;
Thursday 10am to noon;
Friday 10am to noon, and 2 to 4pm;
Saturday 10am to noon.
We often have small items to sell, including plants, gifts, and greetings cards.
Activity Centre
Rhoose Community Library officially opened its Activity Centre in June 2022. This space is available to hire for events by the general public.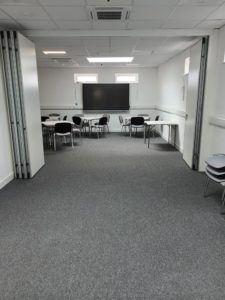 Our 2023 rates are as follows:
1 hour rental – £10,
3 hour rental – £25.
Please contact us to discuss your event and requirements.
Help us raise funds – when you shop on Amazon or by doing your weekly shop!
Do you shop on Amazon? You can use Amazon Smile instead!
Amazon will donate 0.5% of eligible sales to Rhoose Community Library.

Did you know that whenever you buy anything online, from your weekly shop to your annual holiday, you could be raising free donations for Rhoose Community Library with easyfundraising? There are over 4,000 shops and sites on board ready to make a donation – including eBay, Argos, John Lewis, ASOS, Booking.com and M&S – and it won't cost you a penny extra to help us raise funds.

All you need to do is:
1. Go to easyfundraisingRCL and join for free.
2. Every time you shop online, go to easyfundraisingRCL first to find the site you want and start shopping.
3. After you've checked out, the retailer will make a donation to Rhoose Community Library at no extra cost to you whatsoever!
Please note the library is not run by the Vale of Glamorgan Council. The building is leased by Rhoose Community Library which is a registered charity 1166517 and is managed by a board of trustees (see below). The Council do provide the book stock and some back-office services but the Library cannot survive without your help and support.
Because the library is a charity it is totally reliant on support from the community and local businesses. Support is needed both in terms of funds and volunteer workers.
Click on the Facebook below for the latest news and gossip!
The last available minutes of Trustee meetings are available in the Library and are available for public access to access.
Volunteers and Trustees
Rhoose Community Library is a service run by community volunteers for people in Rhoose and neighbouring villages. We are currently recruiting new volunteers and if you would like to help please call in to the library or contact us using this form
Alternatively visit Volunteering Wales for details of our volunteering opportunities and much more.
Our volunteers are the 'life blood' of the Library.
We are also most grateful to our sponsors, who's details are here for the current year.
Our current Trustees are:
Rob Barratt
Jeff James
Barbara Milhuisen
Vicky Reynish
Ian Robinson
Sheila Williams